What's new in scaffolding, including Georg Layher interview
By Euan Youdale04 May 2021
AI speaks with Georg Layher, managing partner of Layher, about its products and plans, while start-up company Kewazo explains its new unique robotic scaffolding material handler LiftBot and Haki covers the potential of digital solutions, in this special focus on the scaffolding industry.
INTERVIEW - GEORG LAYHER
Georg Layher, managing partner at scaffolding giant Layher and Wolf Christian Behrbohm, the company's managing director, share their view of the industry with Access International.
Layher is a longstanding leader in the world of scaffolding, with an ever-evolving array of product innovations and a comprehensive view of the modern market.
Over the last year, the industry and the world has been living with the Covid-19 pandemic. As Georg Layher, managing partner of the company, says, the pandemic has affected all of us much longer than originally expected. However, in scaffolding, the situation tends to vary depending on the application. "Our event customers are suffering tremendously from the current situation, but also continuously demonstrate their creativity in an entrepreneurial sense with innovative ideas.
Layher adds, "In general, there is still a strong demand for scaffolding, especially in the construction industry, and our customers are cautiously optimistic for the upcoming season. We can also expect a return to more normalcy in industrial scaffolding, after a lot of maintenance work was initially postponed due to the pandemic.
He adds, "Power, chemical and petrochemical plants however are still running and therefore downtimes and maintenance work are being scheduled again."
One thing is for certain, the onsite requirements of customers continues to develop with the times and Layher has a keen eye on the future. However, there are also some industry fundamentals, which remain true. As Layher points out, "Since assembly, dismantling and transport costs make up about 80% of the costs for scaffolding construction services, influencing factors like component weight take on great importance."
This is where the Layher Lightweight philosophy comes in. Using higher strength steel grades, new production processes and design improvements, Layher has considerably reduced the weight of the basic components of its SpeedyScaf and Allround Scaffolding systems, while retaining and even increasing their high loading capacities.
The company's new LW steel deck also follows its lightweight concept and is 10% lighter, while providing better handling.
"As ergonomics in scaffolding construction improve, the costs for transport and assembly fall, with every job. That increases profitability in scaffolding construction," adds Layher.
Wolf Christian Behrbohm, Layher's managing director, explains that part of its mission is to increase the attractiveness of its customers to their clients, "and with it the value of scaffolding companies."
Examples of this come with the Allround Shoring TG 60 and solutions for bridging, like the Allround FW System and the Aluminium FlexBeam, which are safer to use thanks to building authority approvals, type tests and new structural verifications.
New fields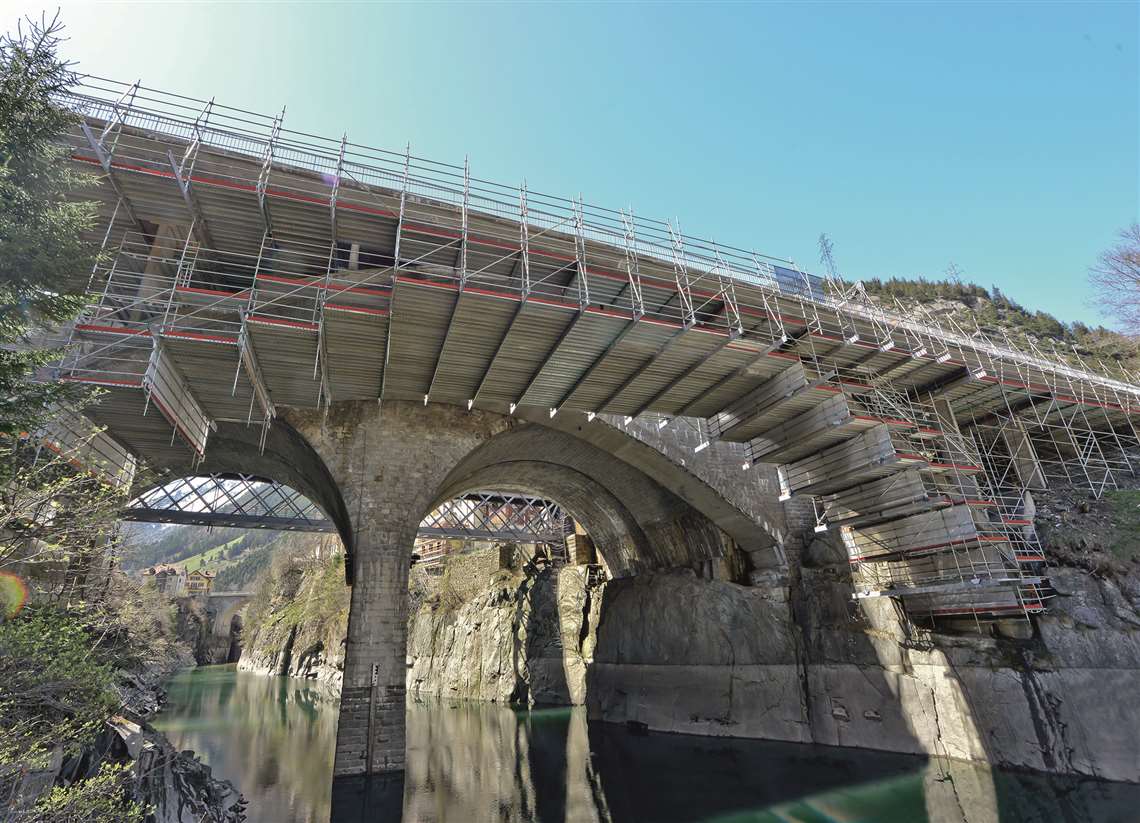 A second focus is to widen the scope of applications for the company's scaffolding systems with just a few supplementary components. Behrbohm says, "That enables our customers to routinely open up new fields of business for themselves and make better use of their material stocks."
Behrbohm adds that all new products are now generally compatible with existing components, which further protects customers' investment.
Improving safety when working on scaffolding construction has always been a central focus of product design. Based on its existing Allround Scaffolding, Layher has recently developed the modular AGS for
façade scaffolding. This solution combines a system-integrated side protection with the flexibility and wide applications of modular systems.
What's new is the AGS-standard and the AGS-guardrail. All other components come from the extensive Allround Scaffolding construction kit. The AGS has just been awarded French innovation award Mat D'Or.
Developments in materials have also been making their way into Layher products. The Xtra-N scaffolding deck, made of glass-fibre-reinforced plastic, is an example of how modern materials are being incorporated. And, the deck, which has an aluminium stile, also has a glass-fibre-reinforced plastic board. The unique deck is designed to offer a high level of safety, plus durability. One major advantage is the ease of cleaning, as very little plaster and dirt sticks to the plastic.
Digital solutions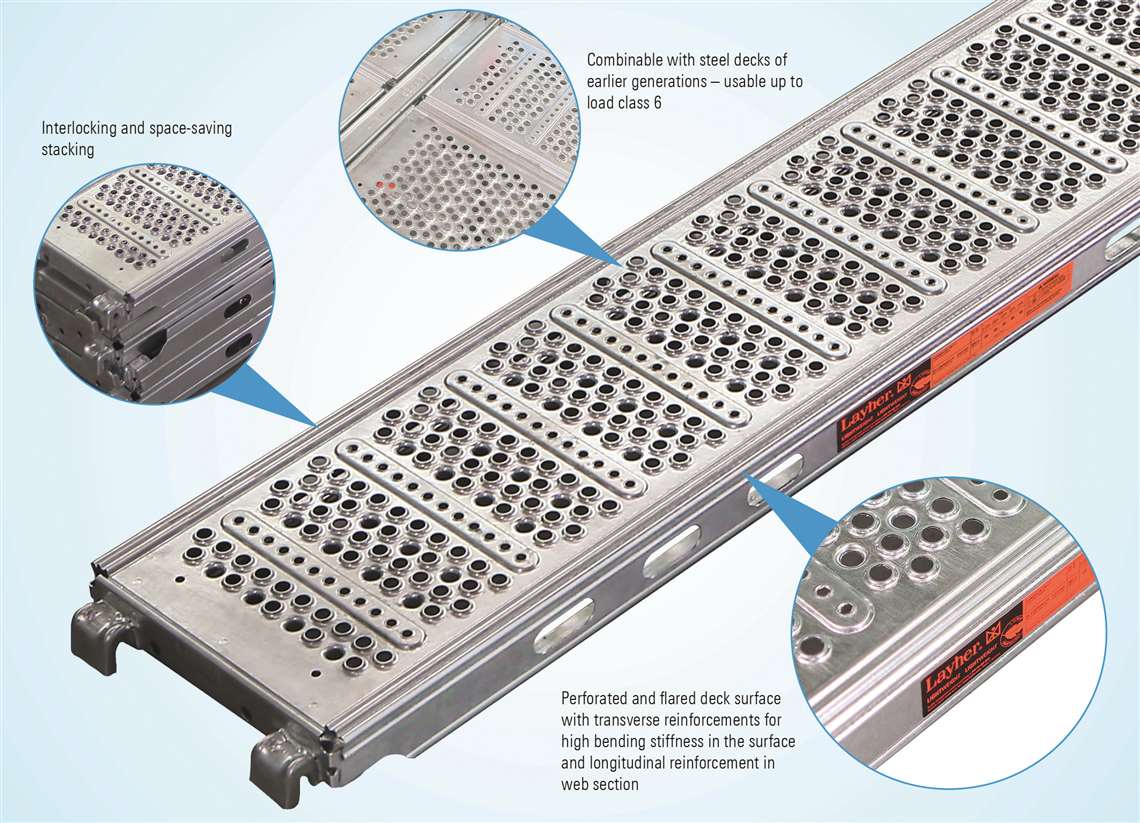 When asked how digital technology is aiding the use and design of scaffolding, Layher explains that it is becoming a vital component. "Nothing else optimises project planning so effectively while opening up enormous potential for cost savings.
A specific focus will be on BIM. "We asked ourselves how the BIM concept, originating in civil engineering, could be adapted to scaffolding in temporary structures. Because the proven Layher systems permit faster and safer upward access, yet are not part of the actual building." Furthermore, Layher points out, scaffolding can also be used independently in civil engineering projects, for example stand-alone structures like temporary bridges.
The result of these considerations is Layher SIM, short for Scaffolding Information Modeling. Layher SIM is a 3D-model-based process for digitalisation of scaffolding-specific work sequences. It is specifically tailored to temporary scaffolding structures and covers all the main factors in scaffolding construction, from planning to logistics and implementation.
Then, there is the integrated software solution LayPlan Suite; a tool for SIM with different modules for every requirement. Apart from offering access to BIM, Layher SIM also provides planning and scheduling certainty at the site, information on all stages of work and cost control, as well as an increase in safety and profitability of projects.
Scaffolding obviously has an important place in the industry, but there are voices in the mobile powered access sector suggesting that scaffolding should be replaced by MEWPs, as much as possible.
Behrbohm shares his view on the matter. "If height access is needed at short notice in order to reach an individual point, MEWPs can be an alternative, if they are already on the premises. But companies also have to consider the limited application possibilities, also with regard to the number of employees working on the MEWP, as well as the operating and transportation costs."
In the long term, Behrbohm continues, scaffolding systems are much more flexible. "On the one hand, multiple trades can work on scaffolding simultaneously. On the other hand, Layher solutions offer a wide range of applications, from classic scaffolding to shoring and reinforcement or temporary stair towers and bridges."
Furthermore, Behrbohm adds, "there is the fast and therefore economical assembly and dismantling, the efficient logistics and practically no maintenance costs. MEWPs are at best a supplement in the area of height access but can hardly replace system scaffolding."
Layher has subsidiaries in more than 40 countries in all five continents, with the main markets, besides Germany, being Western Europe, but increasingly Eastern Europe, as well as North America and South America.
Layher concludes, "Through our global network, we are always close to our customers. We understand the local culture, the national regulations and the local markets and can therefore optimally respond to market-specific needs." AI
Robotic start-up
Kewazo, a German start-up, based in Munich, aims to bring the scaffolding industry in line with modern techniques found in other sectors, and provide safer, more efficient and cost-effective worksites through cutting edge technology.
Founded in 2018, Kewazo is aiming to revolutionise the construction landscape through robotics and data analytics. Its first focus is the scaffolding industry, where Kewazo has identified a range of challenges. To solve the industry problems, the company is introducing LiftBot – a smart robotic lift that provides autonomous transport of construction materials for industrial and construction applications.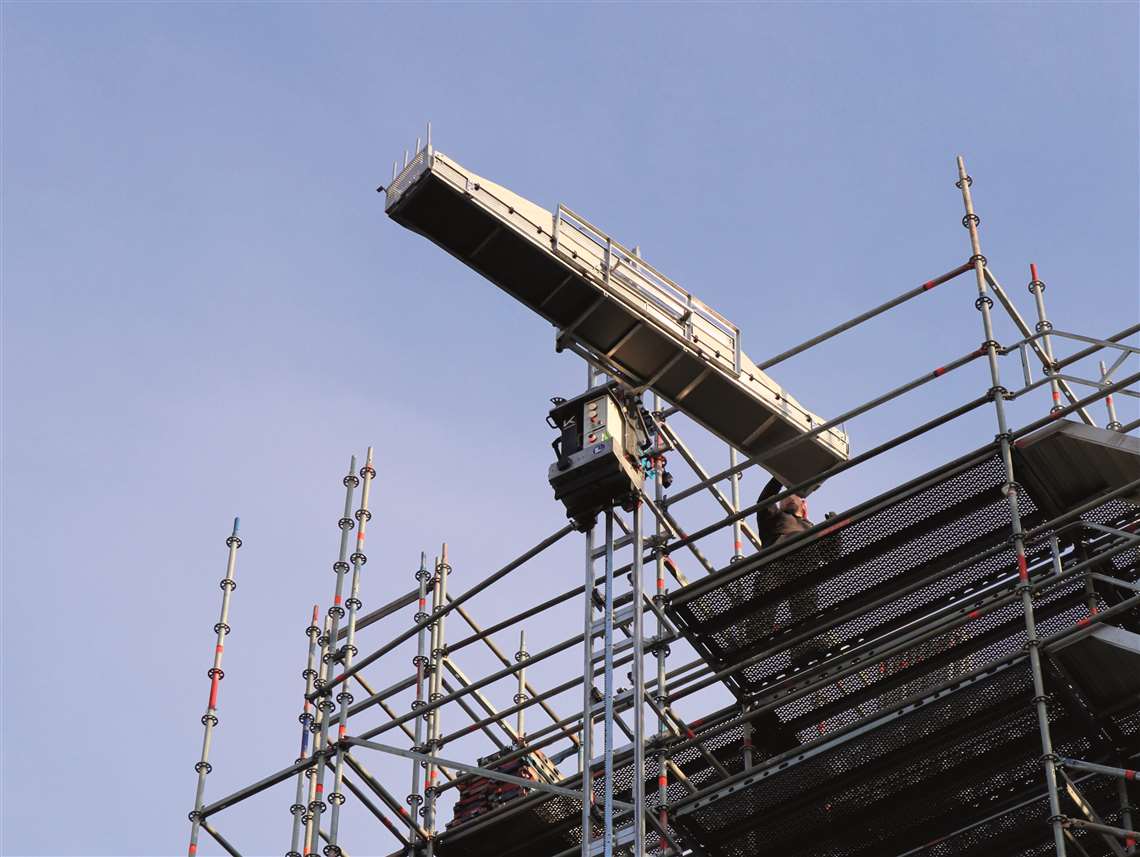 According to Kewazo, two workers and LiftBot can get the job done faster than three or more using conventional methods. Alongside that, telemetry data from the LiftBot is used to provide real-time project performance tracking and predictive maintenance.
Jonas Lerchenmüller, business development manager at Kewazo, explains, there are three major challenges in scaffolding: safety, labour shortages and rising costs.
In Germany alone, there are over 6,200 accidents reported by the industry every year, including on average 10 fatalities. "The physical strain on scaffolders is enormous. Workers carry as much as five tonnes of scaffolding equipment per day. The damage to their bodies can be huge, with back injuries and wear and tear on joints", explains Lerchenmüller.
Safer constructions
Another immediate issue is a collapse in the labour supply. "Our business is a little bit old fashioned. Scaffolding is still done by hand, and when scaffolders reach a certain age it becomes difficult to work", says Dr. Helmut Kreller – a former CEO of scaffolding giant Layher and the Chairman of the Board at Kewazo. Fundamentally, he says, people do not want to be scaffolders anymore, which is an issue for the entire construction industry.
Dr. Kreller adds, "We have to find a way to make work safer. In comparison to other industries, scaffolding assembly has a big potential for automation. Digital solutions will become the next step in the industry. So, we think we are on the right road when it comes to providing something new to the market."
In a highly price-sensitive market, scaffolding firms have limited ways to reduce costs. Labour is estimated to be around 73% of overall costs. "The highly manual nature of the job makes it hard to influence costs without demanding more from already exhausted workers or cutting wages. A lack of detailed information on the project progress also makes it hard to identify which contracts are profitable and where inefficiencies are eating into margins", says Lerchenmüller.
Automating worksites
Finally, Kewazo identified that scaffolders spend as much as 80% of their working time simply transporting scaffold materials on-site during assembly.
Kewazo is solving all these industry challenges by automating multiple steps in the scaffolding assembly process. LiftBot is designed as a 'digital co-worker' and a part of the typical scaffolding crew. Using a battery instead of electricity cables, it can be set up under 20 minutes almost anywhere. The robot runs on rails that are attached directly to scaffolding with standard connectors. The compact size and fast set-up not only make LiftBot suitable for a wide range of scaffolding projects in construction, industrial plants, and shipbuilding yards, but a single LiftBot can easily be moved around the site to where it is needed.
LiftBot transports materials with a speed of 42 m/min and provides an autonomous control. One-touch technology automatically sends the machine to the right level, where materials can be unloaded before it returns to be reloaded. Lerchenmüller adds, "Many other electro-mechanical solutions are complex to install and need intensive training. Workers are often put off using them due to their limited flexibility".
Another major advantage is that the robotic system records the operational data from the construction site. This can provide all the advantages of a telemetry system in that customers are provided with better control, planning and suggestions for optimising onsite processes. Then there is the predictive maintenance element, "We can support customers remotely and optimise the maintenance plan," says Lerchenmüller.
In September 2020, Kewazo received CE certification from German safety authority TÜV Süd. Currently the company has contracted the first series batch of LiftBotss and has completed more than 30 construction projects. Some of the major customers include Bassenberg & Schwarting and Bilfinger arnholdt - one of the leading industrial service providers in Europe. In 2021 Kewazo plans to expand its operations throughout Europe and to conduct pilot projects in Benelux, Scandinavian and American areas.
Digital future 
Whether it is BIM, virtual/augmented reality or IoT (Internet of Things), digital solutions are reinventing the wheel of construction, writes Mattias Kuduk, VDC and Innovation manager at Haki, a specialist in the design and development of temporary access and modular scaffolding solutions.
Digital solutions are reducing risk and streamlining project delivery in ways that once belonged only to a distant future. Therefore, with technology playing an increasingly important role in industries, what are the current and future technologies that are making a difference to the temporary access sector in particular?
BIM
BIM is giving a project's entire supply chain improved visibility when it comes to planning, designing and managing built assets. From enabling architects to design-out risk, to providing contractors with the capability to digitise construction sites, this intelligent 3D model is optimising work processes and collaboration in a notoriously disjointed industry. Not only is it bringing the construction industry into the modern age, BIM is also improving the levels of safety in which buildings are made and maintained.
For the temporary works industry, BIM is enabling internal and external design engineers to produce complex 3D scaffolding blueprints for simple structures. Unlike 2D CAD drawings, 3D modelling produces detailed designs in far less time and with more reliability. Designers can reap these benefits with the Haki Design Tool and Haki BIM; two solutions in which the former enables designers to configure scaffolding designs on a cloud-based platform – Inventor iLogic and Configurator 360 from Autodesk – and the latter advances this configuration onto Revit for greater customisation and capability, particularly when it comes to interacting with the components within the 3D model.
As BIM progresses, the industry will see the wider adoption of 4D, 5D and 6D iterations. Haki is currently engaging in 6D BIM on Hinkley Point C (HPC), the UK's newest nuclear power site. This version is processing live connections to the sites to inform decision-making. Each week a site is scanned for updates, where this data is assimilated and then disseminated to the project's supply chain so weekly progressions can be viewed. With 6D BIM, the HPC project's supply chain has full visibility of a project, which is currently the largest construction site in Europe.
Augmented reality
On construction projects, virtual or augmented reality (VR/AR) gives a clear visualisation of how a project will function in real-life. A project's 3D BIM model is loaded onto the AR software, to give full visibility of the components. Users can then interact and walk through the 'project world' to review the work prior to construction.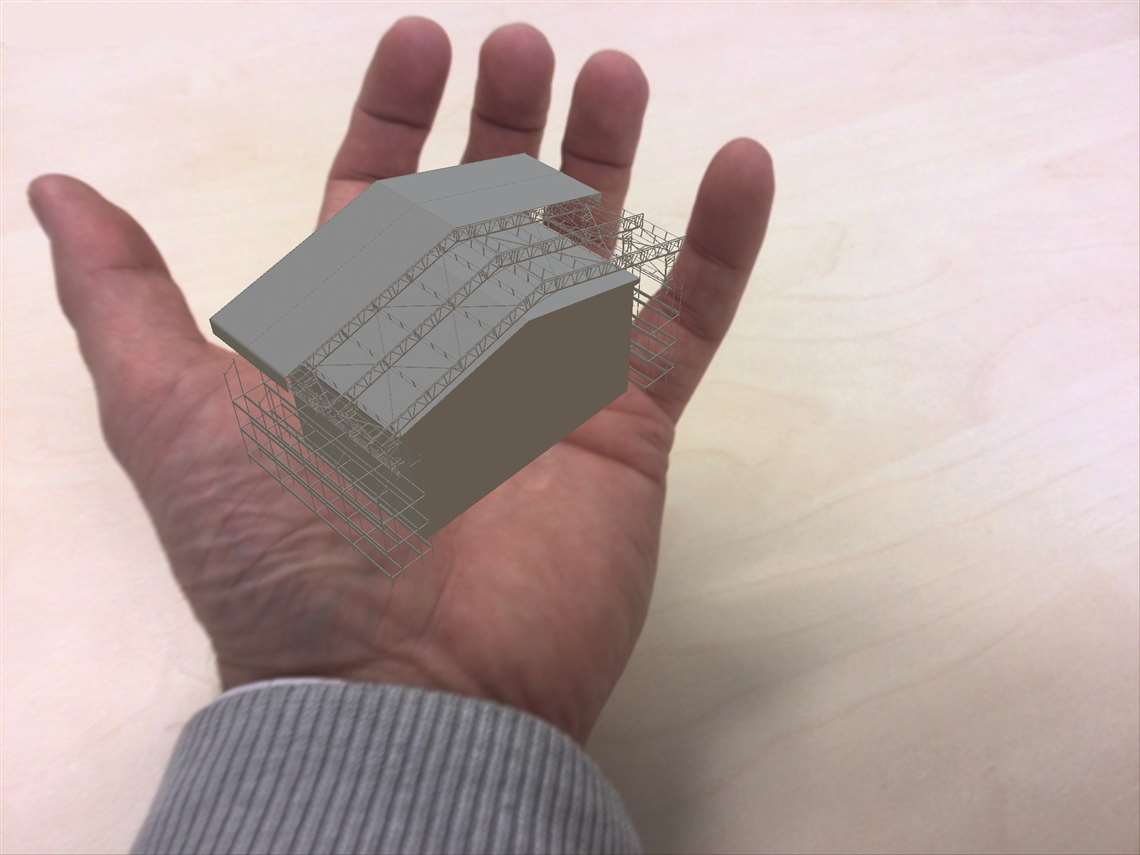 Haki has developed a version of such software named Haki Playground, which allows users to walk around the project directly on-screen. This can be used on any device including a PC, tablet, smartphone, Xbox and PlayStation.
After a project has been completed in Revit or Haki BIM, it can be exported to the gaming platform, Unity. An avatar lets the user walk around the project as if it was in the real world. The user can, for instance, see the detail of a scaffolding beam and analyse its compatibility with fellow materials, enabling money to be saved and risk to be mitigated on projects. To provide even greater accessibility, the Haki App is making use of smartphone technology to enable its customers to view products in AR, in order to find information quickly.
As well as being suitable for a number of devices, Haki Playground negates the need for any headsets with glasses – a real bonus for those constantly moving around a project. The application also allows a number of stakeholders in the supply chain to experience the solution in VR at any one time and is not restrictive to one person, unlike most other applications. This is particularly beneficial for group environments and collaborative or collective feedback.
The Internet of Things (IoT)
The Internet of Things basically encompasses every and any object which uses the internet to connect with another 'thing'. Smartphones, Fitbits, Amazon Echo, each household has at least one of these objects (which are in constant dialogue with another). For the construction industry, the IoT has radically changed the way projects are managed and built; there are apps for project management, deliveries, timesheets etc. IoT is essentially allowing important decisions to be made anytime, anywhere, freeing up site-workers from the shackles of their office computers so work can be performed in any location with decent Wi-Fi.
BIM, AR and IoT are only a few of the innovations which have the potential to change the face of temporary access for the better. With many benefits to offer, it won't be long until construction's digital future becomes a firm reality. AI
NEWSLETTER
Delivered directly to your inbox, Scaffold & Access Newsletter features the pick of the breaking news stories, product launches, show reports and more from KHL's world-class editorial team.
Featured Training From Easybook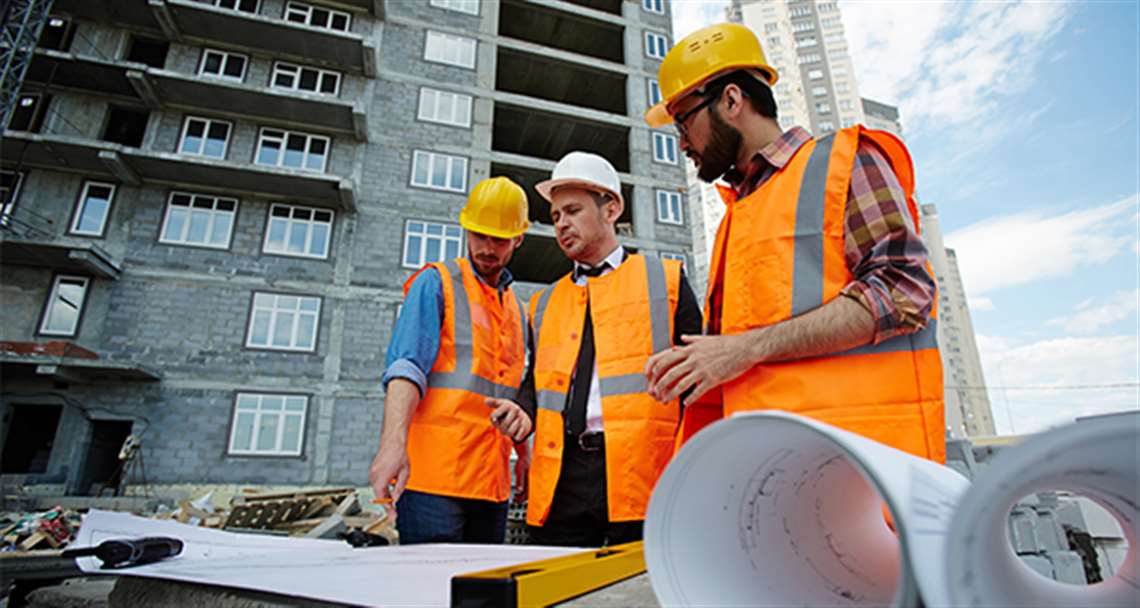 The clock is ticking… Construction workers in New York City – have you fulfilled your required Site Safety Training (SST)? Get your SST card online now
The gold standard in market research
Off-Highway Research offers a library of more than 200 regularly updated reports, providing forensic detail on key aspects of the construction equipment industry.
Our detailed insights and expert analyses are used by over 500 of the world's largest and most successful suppliers, manufacturers and distributers, to inform their strategic plans and deliver profitable growth.