What is the future for mast climbers and hoists?
By Euan Youdale10 January 2022
AI delves into the latest developments in mast climbing and hoist equipment
Mast climber and hoist manufacturers are working along the same lines as other parts of the access industry, with modularity and flexibility being key when it comes to car dimensions and capacity. Digital solutions have also become an important aspect.
For example, Fraco Manufacturing in Spain, which is branded for its products as Torgar, has most recently launched the PL-20 EXT 2V. The machine was designed to offer upmost versatility for hire companies that want to make the most out of a single model. The cabin is modular and allows for its dimensions to be expanded from 3m to 4.4m.
Furthermore, the machine offers different models of cabin doors and ramps, which allow the operator to adapt the machine to the specifications of the project, allowing for different dimensions and properties of C doors. The modular aspect of the machine, coupled with the interchangeable modules allow for it to be installed to the left, right or with its back to the facade. Adding to the versatility, the drive unit is dismountable from the cabin, which allows the machine to fit into lift shafts or tight spaces.
The dismountable drive unit also allows the machine to be installed with Torgar's standard 600 x 600 mast section or with the 650 x 650 mast sections. Furthermore, the unit allows the user to use the unit as a goods hoist, at a speed of 22 m/min and can be controlled with an easy to use panel from below or at a lower speed (12m/mn) from inside the cabin.
This model includes the company's own in-house made parachute that is specifically calibrated for this unit. This allows it to have a state-of-the-art brake gear that is designed for each machine with the object of optimizing its use and thus giving customers a sense of security.
The main feature continues after this box...
One button reach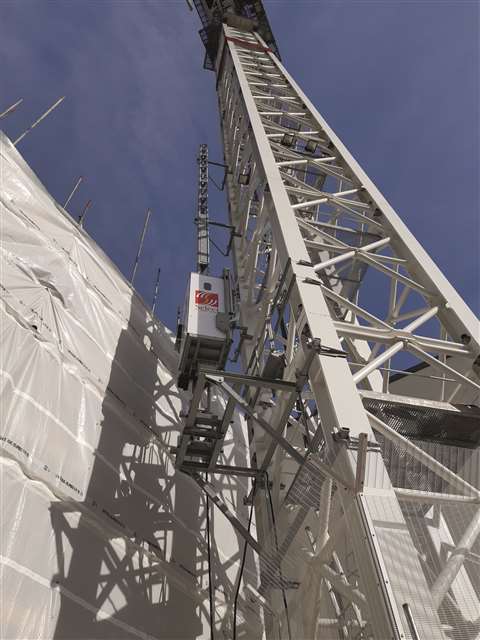 Making its contribution to flexibility is Electroelsa's Elsa A03 TCOL tower crane operator lift, which has a one button push to reach the crane platform.
It offers easy installation with variable anchors that match all tower crane models, and doesn't require any modification for old crane models. The unit also has low power consumption, of a maximum 4KW.
Stand out features include a GPS remote control system to manage service interventions and user habits and a fleet app management system accessed from laptops and mobile phones.
Already commercialised in the market under different names, such as T-Lift used by Terex tower cranes, this product is compatible with Electroelsa's small transport platform Elsa PM03, with a payload up to 300kg so that they can fit into the same mast section.
The A03 uses 80% of the same spare parts of all construction hoist models, transport platforms and MCWPs, manufactured by Electroelsa in Italy.
Next advances
Another Spain-based manufacturer Alba will soon launch the PMH model, a new passenger and material hoist with greater load capacity of up to 7100 pounds, complying with all regulations for Europe, the US and Canada.Little information is available yet but it will have an advanced floor call management system and all product data can be viewed thanks to a remote connection system.
Stros is planning a number of improvements for future products. One will be a regenerative battery operated hoist. "With battery power you won't have to rely on a power source which allows for greater flexibility, portability and simplified installation," says the company.
Stros is also researching applications for a roller-pinion option. Roller pinions combine the best features of rack and pinion, while eliminating some of the short comings. Instead of teeth, the pinion is made of rolling pins, each supported by two roller bearings. This allows friction-free motion as the rollers engage a tooth profile designed to match the path of the pinion. The bearing supported rollers eliminate the sliding friction of traditional rack and pinion systems, converting rotary motion to linear motion with 99% efficiency.
The Stros range includes the NOV 1324 UP Construction Lift, with a capacity of up to 1.3 tonnes, a maximum height of 350m and a transport speed of up to 40m/min, through to the NOV 4050-3 Dual-Mast which can carry up to 4 tonnes to 350meat 4 m/min. The elevator is controlled by a joystick or buttons, or can be equipped with a keyboard for direct floor selection.
Continue reading the main feature after this box...
On top
Saeclimber's P40, 54m long tri-mast configuration is now working in Milan. The whole façade area of the building is using one equipment type, saving time and money. The P40 is a best seller and according to Saeclimber, there are several hundred units working in the UK, France and Italy.
New additions
Scanclimber is constantly working on designs and add-ons to its mast climbers, based on customer requirements. "As trends go, the architectural designs of skyscrapers are getting more complex every year. The more complicated structures, the more difficult it gets to access them."
The SC1000 EZY mast climber is one of Scanclimber's latest. The EZY was designed and developed to carry out installations in a confined space. The unique feature of EZY is its modularity, which allows it to be transported through a diameter as small as 600mm.
The whole machine is designed in such a way that it comes in different modular components that can be transported to through a confined space. These modular components can be assembled and disassembled at the area of application. The installation of the EZY is very simple, adds the company, and can be assembled and disassembled in a matter of hours.
The SC1000 EZY is 5.4m long and has a payload capacity to a maximum of 850kg. It can be extended up to 9m with sliding extensions on both the sides of the platform. The company has also launched a couple of additional features for its products in recent times. The Glide rail is a mast climber add on for lifting and moving façade elements from the platform at any given height.
The glide rail takes a step ahead of traditional monorails, which are installed on the top of the building structure. Whereas the glide rail is a special MCWP add-on that helps to transport and deliver facade elements. It can be mounted on to the lifting frame of the mast climber and hence it moves up and down along with it.
The glide rail has a maximum payload of 600kg. Once it is latched on to the lifting frame and locked, it does not have any effect on the payload capacity of the MCWP.
Scanclimber's Slope is a new feature added to its mast climbers that allow them to be used seamlessly on inclined facades. The MCWP slope ensures the platforms are flat and level while working on inclined facades from anywhere between -15° to 44°. This new option is available for all standard mast climber models, such as SC5/6/8/10000. Payload capacities are not compromised as the mast climber converts from a standard MCWP into a high reach access machine.
Flexible climbing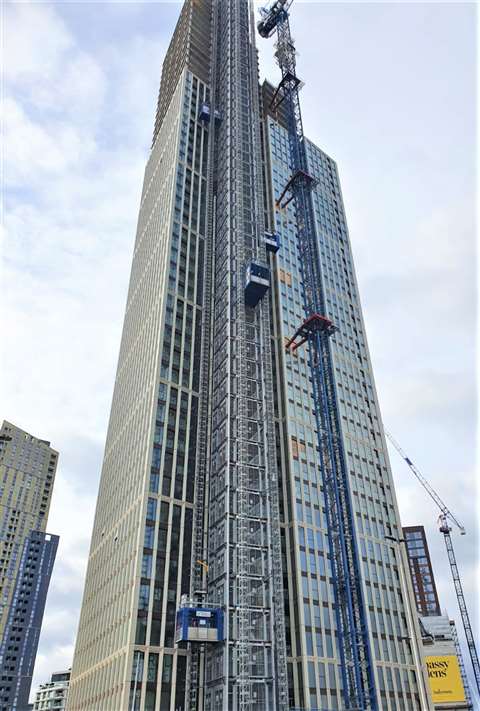 Stros recently supplied seven construction lifts, including three dual masts for a common tower project at the Nine Elms development in London, UK, with construction company Reco and London Tower Cranes (LTC), which has 44 Stros lifts in its fleet. For this project, Stros supplied a single NOV 3242 UP3 F9, two duo NOV 3242/2942-2 UP3 F5 units, three dual mast NOV 4050-3 H3.1 F4 T's and one single NOV 3242. The company also supplied 1,155 masts, 173 anchors and 511 story doors.
Sydney special
The recently opened Crown Casino in Sydney, Australia, has become the tallest building in the city at 271m and 75 floors in height.
The curving form of the tower structure itself made standard vertical access systems unworkable. Alimak's experienced engineering team was able to develop bespoke hoist cars and ties.
The large footprint of the construction site and the scale of the building meant that the efficient transport of key people, materials, tools and vehicles was paramount in keeping the project running to schedule.
Seven Alimak construction hoists were provided to fulfil the varied needs of the project, with the flexibility of a hire agreement meaning superior functionality was achieved in an economical package. Among the construction hoists deployed was a Alimak Mammoth 55/50, designed to carry up to 5,500kg.
With increased car dimensions, this was ideal for transporting vital heavy equipment such as forklifts and electric pallet jacks to the higher levels, even being able to transport multiple forklifts at once. Speed and maximising productivity were also key considerations. A combination of hoists with large cars and speeds of up to 80 m/min and convenient access points were used for the most efficient deployment.
A central core hoist was installed to provide access to the jump form while the building was being topped up.
NEWSLETTER
Delivered directly to your inbox, Scaffold & Access Newsletter features the pick of the breaking news stories, product launches, show reports and more from KHL's world-class editorial team.
Featured Training From Easybook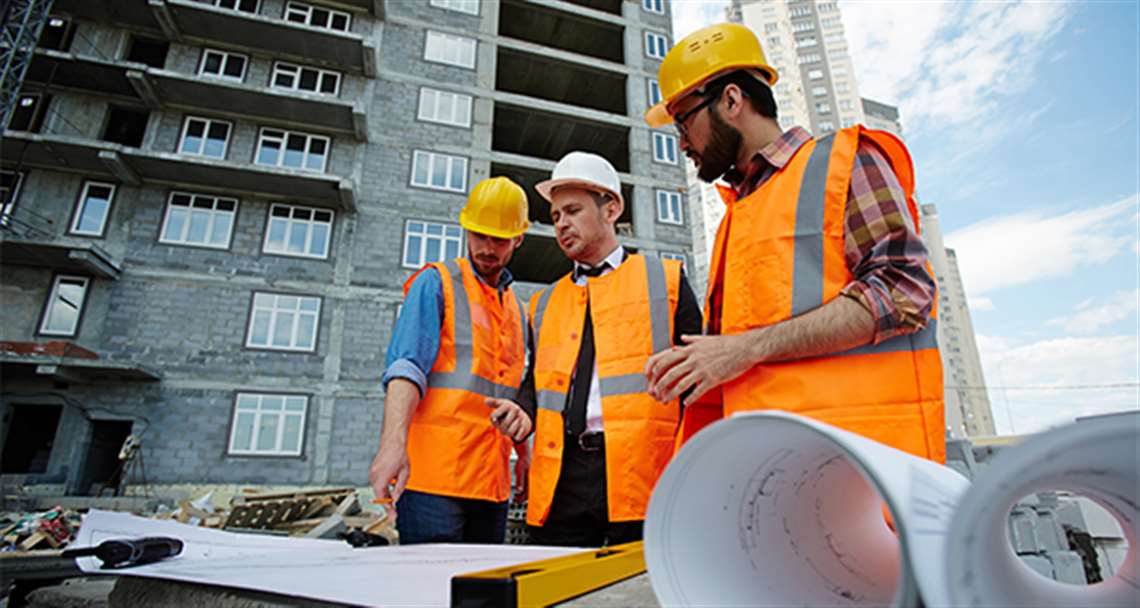 The clock is ticking… Construction workers in New York City – have you fulfilled your required Site Safety Training (SST)? Get your SST card online now
The gold standard in market research
Off-Highway Research offers a library of more than 200 regularly updated reports, providing forensic detail on key aspects of the construction equipment industry.
Our detailed insights and expert analyses are used by over 500 of the world's largest and most successful suppliers, manufacturers and distributers, to inform their strategic plans and deliver profitable growth.