Stopping falls from height
In early May, the U.S. Department of Labor and the Occupational Safety and Health Administration (OSHA) started a National Emphasis Program to protect workers by preventing falls, the leading cause of fatalities in the workplace.
The program will focus on reducing fall-related injuries and fatalities for people working at heights in all industries by establishing guidance for locating and inspecting fall hazards, in addition to allowing OSHA safety and health officers to open inspections whenever they observe someone working at heights.
The program will also have an outreach component to educate employers about effective ways to keep their workers safe.
If an OSHA compliance officer determines an inspection is not necessary after observing a jobsite, they will provide outreach on fall protection and leave the site.
OSHA timed the emphasis program on workplace falls to line up with the 10th annual National Safety Stand-Down to Prevent Falls in Construction this May.
To promote safety while working at height, SA has rounded up some of the latest fall protection devices to come to market.
Grace Industries
Grace Industries WorkForce product line provides fall suspension trauma alerting and protection devices for a variety of industries including utilities, construction, arborist, scaffold workers and windfarms. The WorkForce product line uses an
advanced gyro/accelerometer sensor to detect a worker's fall from heights and automatically transmits a wireless emergency alert without any action required by the worker. WorkForce transmits this wireless emergency signal that is received by others facilitating a "prompt rescue."
WorkForce fall suspension alert system device features include: Real-time fall detection and safety monitoring that detects falls and provides audible, visual and vibrating alerts; a no-motion alarm that becomes activated automatically; user push-button activated distress alarms; outdoor GPS option and indoor location with Grace Indoor Locator beacon; and more.
No cellular service or internet is required for use and WorkForce fall arrest safety devices can be used with grace's advanced monitoring systems to provide additional alerting: Text and email notifications; Automatic voice phone-dialer; Integrates with existing Security, Fire Alarms and SCADA systems and; Satellite or cellular modems.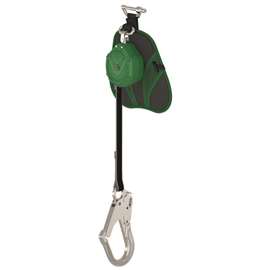 MSA
V-Shock Edge Leading Edge Personal Fall Limiter aims to make the use of Self-Retracting Lanyards simpler. Available in multiple lengths and snaphook configurations for a variety of applications. MSA says selection is made easier with defined color coded housings, and energy absorbers: Green for Leading Edge and Grey for overhead use only.
The V-Shock Edge Leading Edge (LE) web PFL allows users to get the job done while working in leading edge scenarios with a product designed to perform in some of the most rigorous environments. Additionally, labels use clear iconography to help deliver critical SRL information in a clear and easy to understand format. Clearance charts have also been designed to communicate fall clearance requirements in an intuitive format, both in the user manual and on the label pack for easier access. Lastly, pre-loaded RFID allows users to quickly integrate the V-Shock line of SRLs with your MSA Fall Protection Asset Manager.
MSA's new Rope Temporary Horizontal Lifeline (THLL) helps to save time and increase efficiency when setting up lifelines on the jobsite. The system's kernmantle rope provides a lifeline solution to meet specific application needs.
Features of the Rope THLL include: Integrated Flip-Up Tensioning Handle that eliminates the need for wrenches or rods during install, including the final tensioning step; An integrated locking mechanism on the rope pull through designed to be easily locked into place without the need for tools and; Exclusive bypass shuttles that allow workers to maintain 100 percent tie-off while passing on the same line, without compromising safety.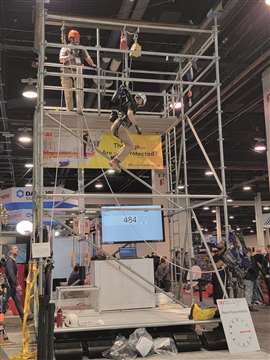 3M
3M's DBI-SALA Ultra-Lok Leading Edge line of retractables includes lengths from 15 to 55 feet and are approved for leading edge work and foot-level tie-off, providing protection against sharp, leading edges. (Photo: 3M)
3M debuted a new product line for those working near Leading and Sharp edges. The Leading Edge range includes DBI-SALA Smart Lock SRLs, Smart Lock Leading Edge Modular Connectors, Ultra-Lok Leading Edge SRLs, Nano-Lok Edge SRLs, Nano-Lok Edge SRLs, EZ-Stop Leading Edge Lanyards and Protecta Leading Edge SRLs.
3M says, "To visualize a leading edge, imagine a worker installing steel decking on a new building. Now imagine the worker's fall protection system is anchored at foot-level behind them. As the worker moves out and away from the anchor point while installing the decking, the worker is exposed to a potential fall over the edge of the building or the edge of an elevated platform."
A sharp edge, on the other hand, "is one that for practical purposes, is not rounded and has the potential to cut most types of lifelines. The ANSI Z359.14 standard for sharp edges, for example, involves testing the fall arrest device's lifeline over a piece of steel bar with a radius of no more than 0.005 inch. If the lifeline is severed, the device fails the test and does not comply with ANSI."
Sharp edges are found in many leading edge applications where the edge is able to cut or damage a traditional lifeline upon contact. Typical I-beams have edge radii that range from 0.005 to 0.032 inches.
The 3M PROTECTA Leading Edge Self-Retracting Lifeline allows users to tie-off at foot-level with the 20, 33, 50 and 66 feet. PROTECTA SRL products are put through extensive sharp edge testing to help ensure protection against sharp, abrasive and other leading edges found at construction sites, according to the company.
Tractel
Tractel's blocfor self-retracting lifeline devices combine safety and durability in an ergonomic and lightweight design which allows for more flexibility of movement at height, according to the company.
The complete range can be utilized in all configurations, vertical and horizontal, and supports a user and tools up to 330 pounds.
The blocfor range is ideally suited for construction applications. The product has been specifically tested for use on sharp edges such as roof terraces.
It is available with a variety of configurations including galvanized steel for standard use, stainless steel for use in the food and beverage industry and synthetic rope for electrical environments.
The blocfor self-retracting lifeline includes safety features built in. It automatically locks in the event of a fall, reducing the total drop height, and features an integrated fall indicator.
In addition, Energy System Dissipater (ESD) technology enables the device to ensure that the user will not be subjected to an impact of more than 600 daN even if the fall occurs when the wire rope is fully unwound.
It is ultra-resistant to shocks and UV and made with a reinforced polyamide or aluminum housing for improved impact, abrasion and wear resistance.
The blocfor fall arrester is available in 6- to 100-foot lanyard lengths.
NEWSLETTER
Delivered directly to your inbox, Scaffold & Access Newsletter features the pick of the breaking news stories, product launches, show reports and more from KHL's world-class editorial team.
Featured Training From Easybook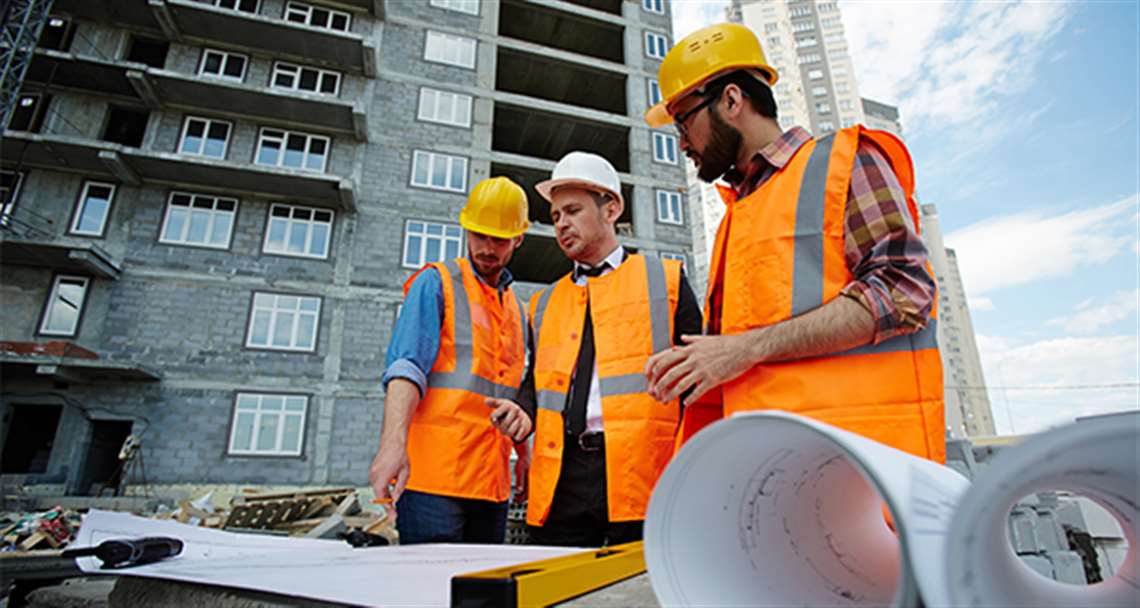 The clock is ticking… Construction workers in New York City – have you fulfilled your required Site Safety Training (SST)? Get your SST card online now
The gold standard in market research
Off-Highway Research offers a library of more than 200 regularly updated reports, providing forensic detail on key aspects of the construction equipment industry.
Our detailed insights and expert analyses are used by over 500 of the world's largest and most successful suppliers, manufacturers and distributers, to inform their strategic plans and deliver profitable growth.