Safe slab and beam shoring starts before installation
The Scaffold & Access Industry Association's (SAIA) Shoring Council created new Structural Shoring Design Guidelines for a process that Mitch Meadows, chair of the SAIA council, says "doesn't really fall perfectly into any current category of standards."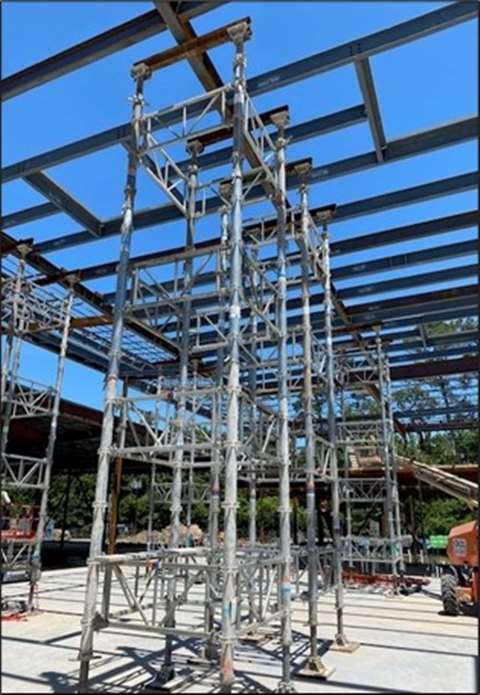 Meadows is a professional engineer and branch manager with D.H. Charles Engineering in Cardiff, Calif., and he suggests the best-practices document leads with a list of Important Questions to answer before completing shoring design because of the demand for detailed loading and process information that must accompany any shoring design.
"From our perspective, the main risks with shoring are property damage and/or bodily harm or death," Meadows says. "Obviously that's a risk for, any construction project but the difference between a structural shoring project and an access scaffold project is that people have been building scaffolds for thousands of years."
Project people may not be as well-versed on the information details shoring engineers need to hold up a roof, the corner of a building or a bridge.
Particularly in renovation work, just determining the load that needs to be supported can be elusive. How that load will change during demolition and/or reconstruction is also a crucial influence on shoring design.
"We definitely get in situations where people are very, very hesitant to provide the appropriate information for whatever reason -- it's a time crunch, or they're just pushing someone to hurry up and giving them a number," Meadows says. "It happens more often than we'd like to see, and that's why we created this document: to help educate the industry on the best practices."
Shoring design and questions to consider
Here are a few of the 15 Important Questions that steer a shoring design in the proper direction:
How are the members requiring support constructed?

What size steel members?
What thickness concrete?
What variety of timber or laminated lumber?

Which members are being removed, replaced, or modified?
Are there as-built drawings for the structure to be supported?
The construction project's engineer of record is typically the best source for this information because of their knowledge of both the structure's makeup and of the processes related to the shoring.
There's more to it than "how much does it weigh?"
What's the plan for the floors or roof above the shoring? Should the design anticipate a snow load? Will the contractors add equipment or materials to the load?
Are there retrofit or renovation drawings for the new work being performed?
"Even something like a simple roof shoring, that sounds easy enough. But why does it need to be picked up?" says Meadows. "Actually, there's a wall at the end of the building that's only being partially removed. Partially removed versus fully removed means two different things.
Are there new foundations or excavations nearby that will need to be accounted for during the shoring operations?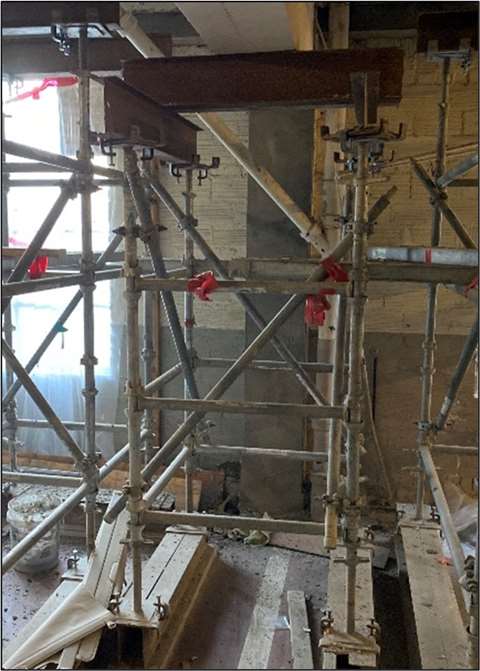 "If you set the shoring towers on the edge of an excavation, you're not going to have much load-bearing capacity," Meadows says. An adjacent excavation's wall can collapse under the surcharge load from shoring tower.
There are rules of thumb for locating shoring towers, but if the construction process impacts their capacity, of course the design must change to accommodate the load.
Best shoring practices
Here's a sample of best practices the Shoring Council's Structural Shoring Design Guidelines lay out: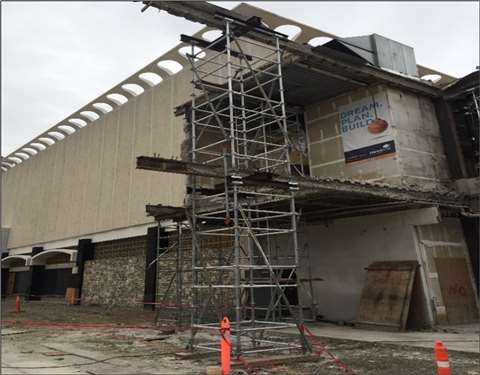 Support structure as close to original support point as possible
"Obviously there are other practices that matter, like making space for the work that's going on," says Meadows, but confirms that the closer a tower can be placed to the original load point, the better.
Ensure sufficient back span on members being supported to reduce loading on shoring tower
Again, Meadows points out a rule of thumb. Best if the back span, or portion of the total length of a beam being supported that's behind the shoring tower, opposite the free end of that beam, is two-thirds of the beam's total length. Of course, there are ways to accommodate the many situations where that's not possible, but the more back span the better.
Provide work platforms independent of shoring systems to avoid vibration or additional loading shoring towers outside of primary structural support
"The best practice is to avoid having people working from the shoring. We don't want additional loads or vibration happening."
Ensure that elements supporting the shores can adequately transfer loads to the ground without overstress or excessive deflection
Those are some Dos. Here's a sample of Don'ts:
Avoid "hanging" columns, beams, or walls from the end of members being supported by shoring. For example, directly support members that are having original supports modified or removed. Only hang members if connections have specifically been designed for such conditions and shoring towers are designed for additional loading
"If they're demolishing just the lower part of a wall, is the remainder supposed to hang from the beams we're supporting?" says Meadows. "That's additional weight. Maybe the beams aren't even strong enough to hold that load. What seems to be simple can turn into a very major issue."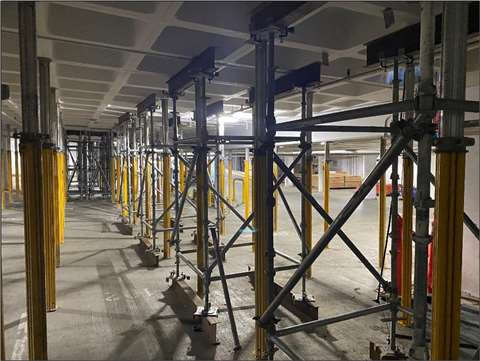 Avoid providing cantilevered shoring tower support beyond shoring support locations. For example, don't provide critical structure support with brackets or cantilevered scaffold unless the shoring system is specifically designed for cantilevers.
"Could it be done? Sure," Meadows says but then describes the complexity of managing the shear loads on towers. It's a solution he says would require professional design. "You would one-hundred percent need an engineer," and it would still be an exception to shoring best practices.
Avoid supporting structural members without having fireproofing, sheathing, and all other interferences removed prior to work. Crushing and movement of structure can occur otherwise.
Getting answers to these important questions and relaying them to the design team not only supports a successful project, but almost always cuts the cost of shoring and related work.
NEWSLETTER
Delivered directly to your inbox, Scaffold & Access Newsletter features the pick of the breaking news stories, product launches, show reports and more from KHL's world-class editorial team.
Featured Training From Easybook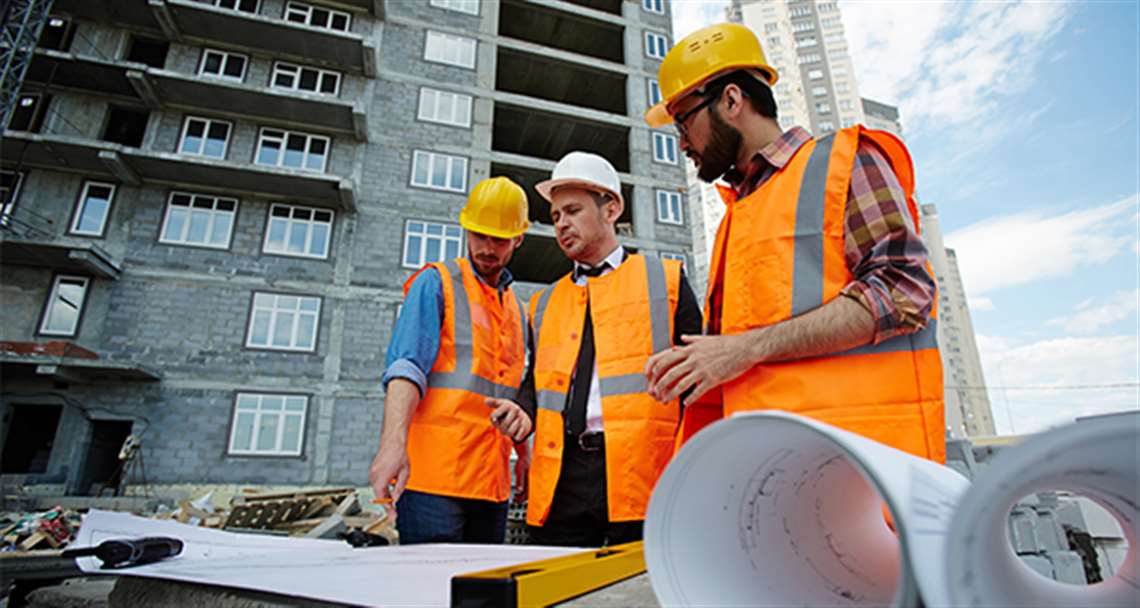 The clock is ticking… Construction workers in New York City – have you fulfilled your required Site Safety Training (SST)? Get your SST card online now
The gold standard in market research
Off-Highway Research offers a library of more than 200 regularly updated reports, providing forensic detail on key aspects of the construction equipment industry.
Our detailed insights and expert analyses are used by over 500 of the world's largest and most successful suppliers, manufacturers and distributers, to inform their strategic plans and deliver profitable growth.