Scaffolding partnership aids in airport tower construction
By SA staff25 January 2022
Sunstate Scaffold Services recently teamed with Layher North America to support the construction of an $80 million air traffic control tower at the Southwest Florida International Airport. The ongoing project was made possible via a dedicated scaffolding practice, key partnerships, and digital techniques that accelerated the project schedule and reduced costs.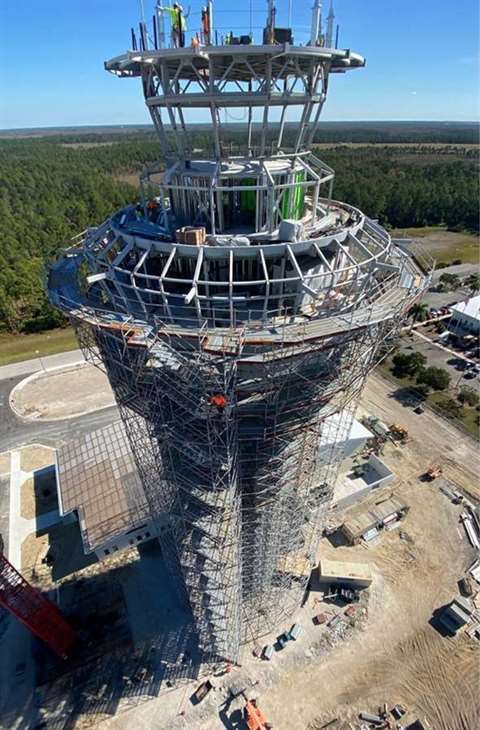 In June of 2020, M Stucco & Drywall, Inc., a contractor specializing in interior and exterior framing, reached out to Layher Regional Sales Manager, Obed Bosch, for consultation on a scaffolding design that would facilitate their portion of work on a 200-foot traffic control tower. M Stucco and Layher worked to produce a design that met the requirements outlined by the general contractor, DeAngelis Diamond.
In the process, it became clear that the scaffolding was an entire job in itself. The project would replace the current airport control tower, doubling its height, and include a 15,000-square­ foot operation at the base. At the top, a dome would require a non-traditional scaffolding setup. Early reports estimated that 37 contractors would need to work both inside and outside the structure simultaneously.
A Proven Partnership
M Stucco and Layher agreed that a dedicated scaffolding approach was merited and reached out to Sunstate to work on the job. It would be the latest in a long line of collaborations between Layher and Sunstate.
''You're not going to get six trades on the job at once otherwise," Eel Smith, owner of Sunstate and a 30-year veteran of the industry, said to DeAngelis, "unless you want to extend the project another six months."
DeAngelis didn't need convincing. He greenlighted Smith's pitch for a dedicated scaffolding approach to save time and avoid additional risk associated with multiple constructions.
The Design Layher scaffold designer Kara Donovan worked on the design. To meet project needs, Layher Allround scaffolding, and the Layher Stair Tower Construction Stair 200 came together in a repetitive construction for the first 10 levels. Towards the base, a double leg with a wedge clamp made use of scaffolding as shoring to support the heavy load while avoiding the high price of shoring rental.
For the uppermost portion - where roughly $15 million in computer, navigation, and surveillance technology will eventually be housed - concentric circles formed a 160-foot diameter scaffolding, with a 170-foot circle at the largest point. At the topmost levels, each section was unique.
Layher's digital design process helped to optimize work while reducing operating costs. First, Layher uploads a client's 3D digital drawing to a scaffolding application and designs an affixing scaffold. A preliminary drawing is sent to the client to verify field fidelity and viability. Once the design is greenlit, a local engineer reviews and stamps the drawings. Next, the same suite of design software outputs 1) a materials list that accounts for every component, 2) a 2D drawing, and 3) a 3D digital drawing that allows builders to verify each component and connection point in the field.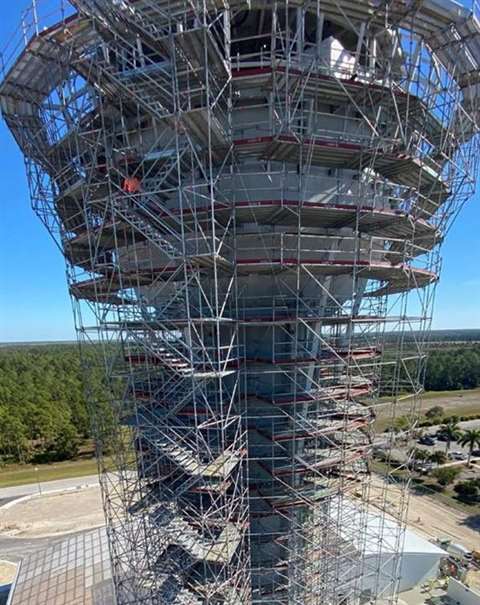 Smith said, "By the time you're clone, you know everything from the total weight to how many truckloads [you need]."
Advocates for the process cite a reduction in change orders and the elimination of guess work as additional benefits. Erectors take the printed drawing into the field, which includes a scan code to the 3D version for quick reference. The 3D plan can be viewed in 360 degrees and magnified or manipulated for detailed view.
"You can spin it, turn it, flip it. If you're up on the scaffold, you can look and see, 'Okay how many clamps do I need?,"' Smith said.
The scaffold was constructed in the field over the course of six weeks with the use of a crane and motorized hoists. "I haven't had to change the initial design," says Smith. "If this drawing has a bolt, a nut, and a clamp, so does the scaffold."
Ahead of Time and Uncler Budget
Smith estimates that a dedicated scaffolding practice and innovative digital process has reduced scaffolding costs by 50% for the general contractor, with most of the benefits actualized through saving time. "We've had six or seven trades work off this at the same time. That's what makes scaffolding the most important part of the project," said Smith.
The project was completed in summer 2021.
NEWSLETTER
Delivered directly to your inbox, Scaffold & Access Newsletter features the pick of the breaking news stories, product launches, show reports and more from KHL's world-class editorial team.
Featured Training From Easybook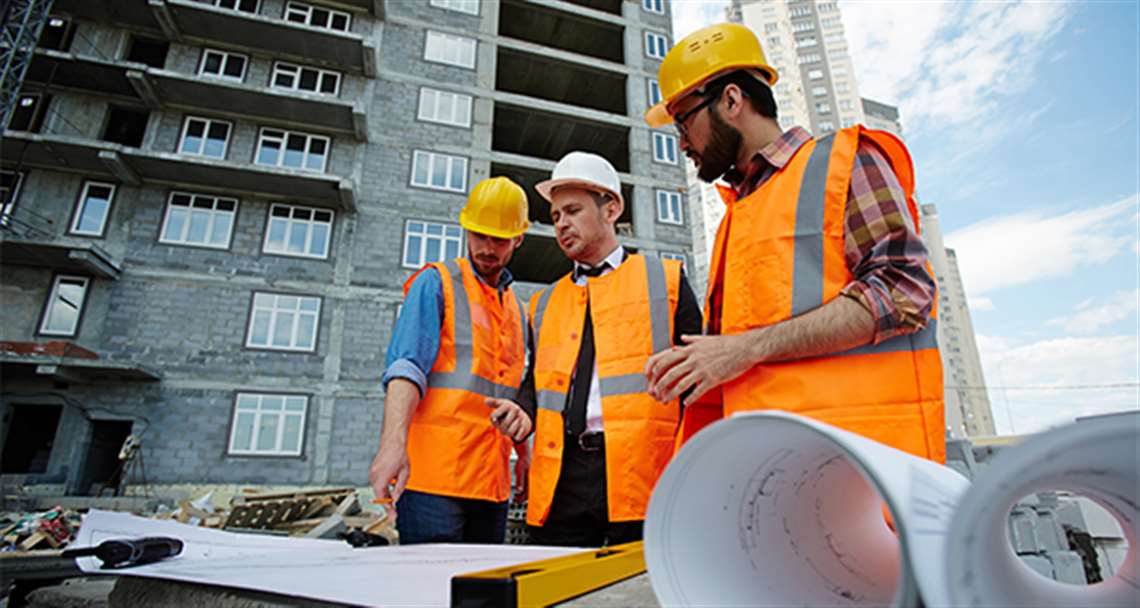 The clock is ticking… Construction workers in New York City – have you fulfilled your required Site Safety Training (SST)? Get your SST card online now
The gold standard in market research
Off-Highway Research offers a library of more than 200 regularly updated reports, providing forensic detail on key aspects of the construction equipment industry.
Our detailed insights and expert analyses are used by over 500 of the world's largest and most successful suppliers, manufacturers and distributers, to inform their strategic plans and deliver profitable growth.